Taking A Deep Look At How To Calculate RVUs
Diving into the ins and outs of what you need to know to calculate RVUs. How to get the right information you need for reimbursement needs.
77% of public and private payers are utilizing the RVU system first developed for Medicare. They're a useful, time-saving way to handle physician payments, but they require precise calculations.
Being able to calculate RVUs is an essential part of ensuring that physicians in a practice are paid accurately and fairly.
Before you can calculate RVUs, you must understand what they are, the different types, and how they are used to calculate payment.
What Are RVUs?
The Medicare Physician Payment System has three components:
the Geographic Practice Cost Indices or GPCI
the Resource-Based Relative Value Scale or RVU
a conversion factor
Medicare provides over 9,000 services, each with its own current procedural terminology or CPT number.It's assigned based on three main factors; physician work, practice expenses, and malpractice insurance.
An RVU does not represent a specific dollar amount. It needs to be converted and calculated to determine how much a physician should be paid.
Check here to have RVU explained in more detail.
Types of RVUs
It's important to understand the types of RVUs that exist to understand how to calculate them properly. These include physician work, practice expense, professional liability insurance, and global fees. Each one has its own characteristics and global value.
Physician Work

Accounts for a physician's time and effort to perform a procedure
Includes three units of time, including pre-service, intra-service, and post-service work, which are added together to get total work
Varies for each procedure
Makes up approximately 50% of the total RVU value

Practice Expense

Accounts for costs of non-physician labor
Includes expenses for building space, equipment, and supplies
Changes to a flat-rate "facility-based" RVU when a physician provides services in another facility like a hospital
Makes up approximately 46% of the total RVU value

Professional Liability Insurance

Accounts for the cost of malpractice insurance premiums
Makes up approximately 4% of the total RVU value

Global Fees

Includes fees for initial visits, follow-ups, and practice expenses
Applies during a predetermined length of time known as the "global period"
Applies primarily to major surgeries
All of these types are used to calculate final payments, which makes each one important to know.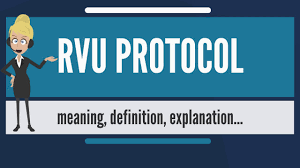 Why RVUs Matter
RVUs are still an important part of the healthcare system. They have become a national standard, and Medicare isn't the only health organization that relies on them to pay its physicians.
There are several advantages to calculating and using RVUs, including:
Increased productivity as doctors are encouraged to work harder to get more RVUs
Easy comparison of payments from different practices by dividing their annual expenses by their annual RVUs
Easy way to keep track of costs and profits for each procedure
Allows patients to understand their bills by going to the Centers for Medicaid Services Website and looking up the HCPCS code printed on it
The disadvantages arise in small hospitals that only see a few patients per day. This can be remedied by lowering the amount of a physician's salary that comes from their RVU output.
How to Calculate RVUs
Calculating RVUs can be a complex process, but it's not difficult to grasp the basics.
All three components of the RVU value are added together. This number is multiplied by the GPCI to account for location. That result is then multiplied by a conversion factor that changes every year to get a final dollar amount.
Calculating RVUs is easier with the proper formula and values to put into it.
Values

PW: Physician Work
GPCI: Geographic Pricing Index
PE: Practice Expenses
PLI: Practice Liability Insurance
CF: Conversion Factor
PP: Physician Payment

 Formulas

For in-facility procedures: (PW x PW GPCI + PE x PE GPCI + PLI x PLI GPCI) x CF = PP
To calculate out-of-facility amounts: (PW x PW GPCI + Transitioned Non-Facility PE x PE GPCI + PLI x PLI GPCI) x CF = Out-of-Facility PP
One thing that will make your life easier when attempting to find out the RVUs associated with a specific procedure is knowing its levels and code. For example, a level-III patient office visit, assigned a code of 99213, has 1.29 RVUs.
You can validate your calculations by sending them to the CMS's website. Accuracy is essential when you calculate RVUs to get the right final payment.
More RVU Calculation Tips
There are other things to consider when you calculate RVUs:
Remember that the fee you come up with may not be the exact amount of money a physician earns. Bilateral or multiple procedure payment rules could change the final payment.
RVUs, conversion factors, and other parts of the process change from year to year. Stay up to date to get the most accurate numbers.
Using a tool to calculate RVUs for you can make the process easier.
It's important to develop a standard process for billing and paying staff. RVUs are only one method of doing this but provide many advantages over their alternatives.
RVU Calculators
Calculating RVUs is an intense process that requires a great deal of math. Just like with any mathematical process, a dedicated calculator can make it easier.
Two examples are the MGMA RVU calculator and the AAPC online work RVU calculator.If you know the code and number of units of a procedure, these tools can do the computation for you.
Other calculators exist, such as urology RVU calculators and RVU calculators for radiology. Find the best one for your practice and/or specialization to save time and get the most accurate payments.
Why Calculate RVUs
Knowing how to calculate RVUS is an important part of paying physicians fairly. It provides benefits to every practice as well as its staff and patients.
Calculating payments using RVUs can seem like a daunting task, but it's not difficult if you're prepared. Look up the current RVUs for the procedure in question as well as the year's exchange rate and use the prescribed formulas. There are also calculators that can help, and all calculations can be validated with the CMS.
Billing is a complicated part of running any medical practice, and it can be useful to have help.
We work with medical communities to provide them with the best possible billing services. We also review all the options on the market to help you make the best choice. View our pricing options today.

Author:
Mike Cynar
Mike Cynar brings buyers and sellers together by producing reviews and creating non biased webpages allowing users to share their experiences on various products and services. He and his staff write informative articles related to the medical field, legal, and other small business industries.